Pride of Stratford for a fourth time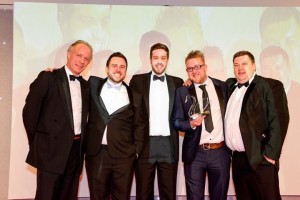 It's beaming smiles all round this week after we came back from Friday night's Touch FM Pride of Stratford Awards clutching the trophy for best Customer Care for the fourth year running!
We've now got four of the glass beauties on show at the pub and can't stop smiling.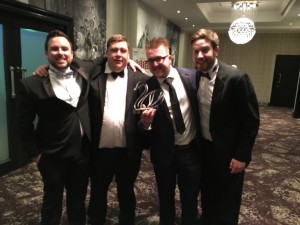 Mat, Jake, Sam and David all donned their finest for the awards night hosted by our friends at Touch FM and what a night it was!  We made so many new friends and caught up with lots of others and the celebrations went on until the next day.
It was fantastic to be nominated for this award and to win – Mat was positively gleaming with pride when he came back to the table with the trophy.  It means such a lot to everyone to win and be recognised for looking after our guests.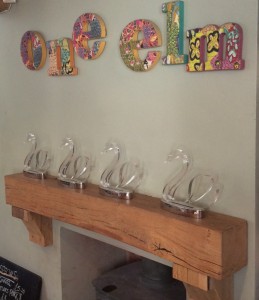 It wasn't long ago that manager Mat went to these awards when he was working behind the bar here at the Elm.  It was a thrill then, and now, three years later, the feeling's just the same.  It's a huge honour to win. We love nothing more than going out into the community and doing our bit for Stratford.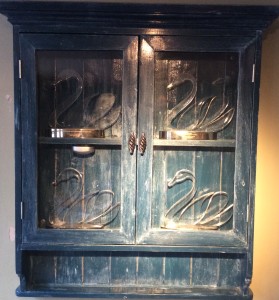 And it's a double cause for celebration as one of the previous Pride of Stratford glass swan trophies we won at the awards came back to us last Monday after being missing for over a month.  It had mysteriously vanished from its display case in the eatery before Christmas and we'd all but given up hope of ever seeing it again.  We'd even heard a rumour that the guys from Touch FM had made us a new one.  In the end, it was safely returned to us last week after going for a swim for over a month. Read all about it in the Stratford Herald and Coventry Telegraph.
With the fourth trophy back where it belongs, we're carrying on doing what we do best – serving up good food and drink and award-winning customer service.  Come and try it out soon and join in the celebrations!